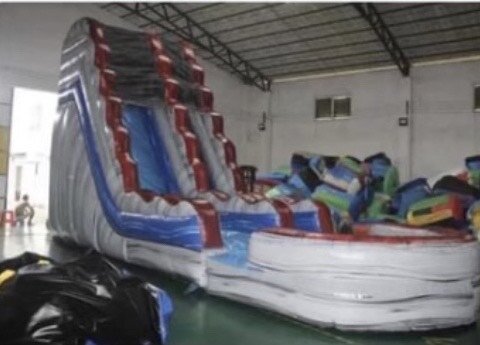 18ft Titanium Waterslide
Actual Size: 'Dimensions: 28' x 20' x 18' (LxWxH)
Setup Area: 15' x 30'
Outlets: 1




Introducing the 18ft Titanium Waterslide, the ultimate thrill-seeking experience for water enthusiasts of all ages! This exhilarating waterslide is designed to provide hours of non-stop fun and excitement.
With its towering height of 18 feet, this waterslide promises an adrenaline rush like no other. Imagine the thrill as you climb to the top and gaze down at the twisting, turning slide that awaits you. Feel the rush of wind in your face as you zoom down the slide, twisting and turning at high speeds.
Crafted with the highest quality materials, the 18ft Titanium Waterslide ensures durability and safety. The slide is made from premium-grade titanium, known for its strength and resistance to corrosion. This means you can enjoy endless hours of fun without worrying about wear and tear.
Safety is our top priority, which is why the 18ft Titanium Waterslide features a sturdy ladder with non-slip steps, ensuring a secure climb to the top. The slide also includes safety handles and side rails to keep riders secure during their descent.
This waterslide is perfect for backyard parties, summer camps, water parks, or any occasion that calls for an unforgettable water adventure. It is also suitable for both kids and adults, making it a versatile choice for family fun.
Setting up the 18ft Titanium Waterslide is a breeze, thanks to its easy-to-follow instructions and quick inflation system. Simply connect the slide to a water source, inflate it, and get ready to make a splash!
So why wait? Bring the excitement of a water park right to your own backyard with the 18ft Titanium Waterslide. Get ready for endless summer fun and create memories that will last a lifetime. Order yours today and experience the thrill of this top-of-the-line waterslide!